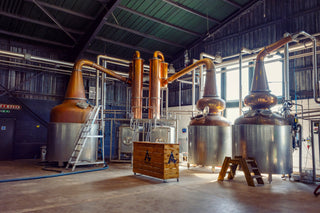 Gin & Vodka Experience
Arbikie Highland Estate is a true field to bottle operation where we perfectly nurture the crops that we use to distil our gin and vodka. Join us on a tour to discover the secrets behind the World's First Climate Positive Spirits and classics like AK's Gin & Tattie Bogle Vodka.
Gin & Vodka
£20 PER TICKET | 60 MINUTE TOUR
Join this tour to learn how we create our base spirits from the crops we grow, including potatoes, wheat, rye and peas. Get hands on with key ingredients and botanicals; before visiting our copper stills where our skilled distillers create Arbikie's family of white spirits.
Finally, join one of our ambassadors to enjoy a tutored tasting of three spirits of your choice from Arbikie's award winning range. We currently produce 5 vodkas, and 3 gins, including Nàdar - the world's first climate positive gin & vodka.
Gin & Vodka & Festive Lunch Experience
£43 PER TICKET | 60 MINUTE TOUR
This festive special experience takes you on the main tour around our farm and distillery, but also includes a delicious festive lunch.
Will you be pairing your spirits with veggie haggis or turkey and stuffing?
Starts November 15th.